Precipitation amount from IMERG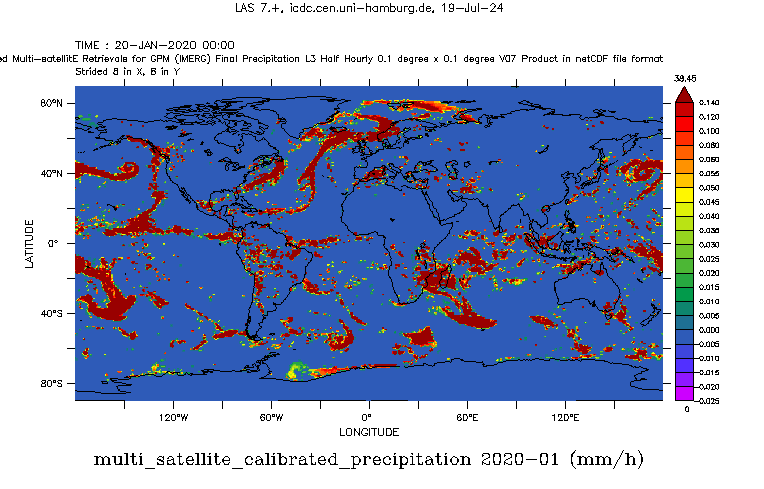 Topics
Access
RESTRICTED: This link to the data set is only available for a restricted user group.  The data set is only accessible in CEN/MPI net or accessible from external nets with a customer account.  Please contact ICDC if you would like to access this data from outside the network.
Data access via file system: /data/icdc/atmosphere/imerg
Description
IMERG is the acronym for "Integrated Multi-satellitE Retrievals for GPM" - here used to generate the Version V06B Level-3 half-hourly precipitation amount data set: GPM_3IMERGHH.
Precipitation estimates from the various precipitation-relevant satellite passive microwave (PMW) sensors comprising the GPM constellation are computed using the 2017 version of the Goddard Profiling Algorithm (GPROF2017), then gridded, intercalibrated to the GPM Combined Ku Radar-Radiometer Algorithm (CORRA) product, and merged into half-hourly 0.1°x0.1° (roughly 10x10 km) fields. Note that CORRA is adjusted to the monthly Global Precipitation Climatology Project (GPCP) Satellite-Gauge (SG) product over high-latitude ocean and tropical land to correct known biases.
The half-hourly intercalibrated merged PMW estimates are then input to both the Climate Prediction Center (CPC) Morphing-Kalman Filter (CMORPH-KF) Lagrangian time interpolation scheme and the Precipitation Estimation from Remotely Sensed Information using Artificial Neural Networks Cloud Classification System (PERSIANN-CCS) re-calibration scheme. The CMORPH-KF morphing (supported by an asynchronous KF weights updating cycle) uses the PMW and IR estimates to create half-hourly estimates. The motion vectors for the morphing are computed by maximizing the pattern correlation of successive hours of the vertically integrated vapor (TQV) provided by the Modern-Era Retrospective Analysis for Research and Applications, Version 2 (MERRA-2) and Goddard Earth Observing System model Version 5 (GEOS-5) Forward Processing (FP) for the post-real-time (Final) Run and the near-real-time (Early and Late) Runs, respectively. The KF uses the morphed data as the "forecast" and the IR estimates as the "observations", with weighting that depends on the time interval(s) away from the microwave overpass time. The IR becomes important after about ±90 minutes away from the overpass time.
The IMERG system is run twice in near-real time, providing an "Early", a "Late" and a "Final" satellite-gauge product ~3.5 months after the observation month, using both forward and backward morphing and including monthly gauge analyses. We offer the final product without the intermediate fields that are provided along the original product, i.e. we offer the complete calibrated precipitation recommended as the data field of choice for most users by the producers.
Last update of data set at ICDC: March 10, 2022
Parameters
Parameters of the IMERG data set

| Name | Unit |
| --- | --- |
| amount of precipitation | mm / hour |
| fraction of liquid precipitation | % |
| quality index | - |
| Random retrieval error | mm / hour |
Coverage, spatial and temporal resolution
Period and temporal resolution:
2000-06-01 to 2021-09-30
every half hour (48 / day)
Coverage and spatial resolution:
Global
Spatial resolution: 0.1 ° x 0.1 °, Cartesian grid
Longitude: -179.95 ° E to 179.95 ° E
Geographic latitude: -89.95 ° N to 89.95 ° N
Dimension: 3600 columns x 1800 rows
Height: Terrain-Following
Format:
Data quality
The data set offered here contains two measures for the uncertainty. One is a quality flag which essentially indicates the consistency of the precipitation values with one another (over time and space and between the input data) , see documentation about the quality index in the references. The other is random errors in the final product calibrated using precipitation station data (see the "GES DISC Dataset: GPM IMERG Final Precipitation" in references).
Contact
G. Huffman et al.
NASA Global Precipitation Measurement Mission Team
Goddard Earth Sciences Data and Information Services Center (GES DISC), Greenbelt, MD, U.S.
email: gsfc-help-disc (at) lists.nasa.gov

Stefan Kern
ICDC / CEN / University of Hamburg
email: stefan.kern (at) uni-hamburg.de
References
Literature:
Websites:
Data citation, License, and Acknowledgments
Please cite the data as follows:
Huffman, G.J., E.F. Stocker, D.T. Bolvin, E.J. Nelkin, Jackson Tan (2019), GPM IMERG Final Precipitation L3 Half Hourly 0.1 degree x 0.1 degree V06, Greenbelt, MD, Goddard Earth Sciences Data and Information Services Center (GES DISC), https://doi.org/10.5067/GPM/IMERG/3B-HH/06 [last access: February 26, 2022], distributed in netCDF file format by ICDC, CEN, University of Hamburg.
and with the following acknowledgments:
Thanks to ICDC, CEN, University of Hamburg for data support.
License
Please seeGES DISC dataset website for license informations.