Data center structure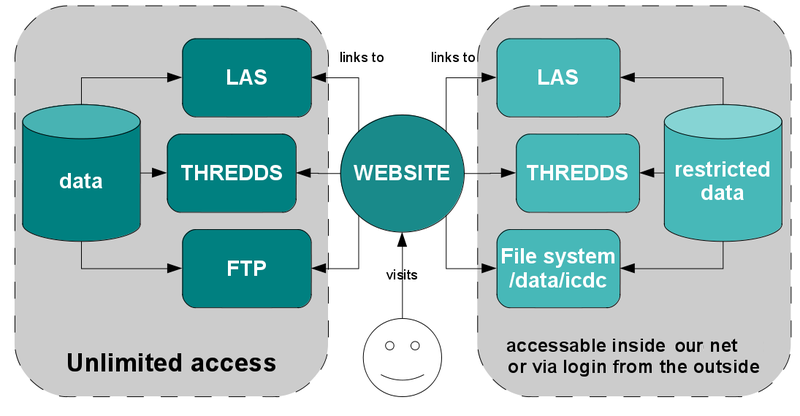 General structure
Data access is provided via HTTP and OPeNDAP by our THREDDS Data Server and via FTP. An interactive visualization of data sets with zoomable maps, time series and sections are provided by our Live Access Server (LAS). Additionally, we deployed a visualization tool called Geoserver, that provides maps and meta data for vector data.
Internal access
Some data sets are only accessable in the CEN network (for CliCCS members also via login from the outside) and are marked accordingly. For that case there is an additional internal THREDDS- and Live Access Server.
Inside this network direct access via file system through the path /data/icdc is possible on all CEN unix workstations and servers. Windows users can mount this folder, too (there are the ICDC tutorial websites). You can use the data directly without the need to copy them to your computer. The data sets are classified in folders atmosphere, land, ocean, ice_and_snow, reanalyses, society, and ocean_syntheses.
You can also find our ICDC data at the DKRZ on levante under /pool/data/ICDC!
Thanks for the excellent tools to: