Meteorological network measurements FESST@HH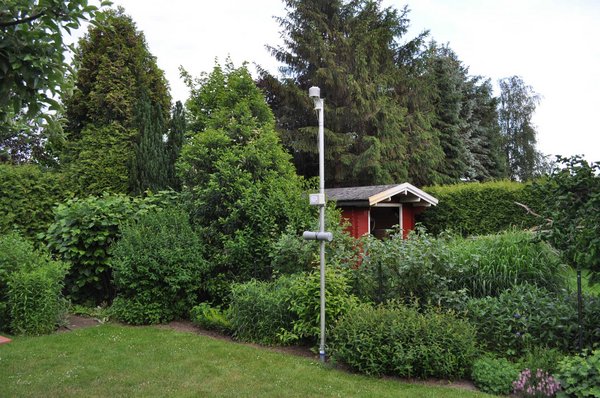 Topics
Access
UNRESTRICTED:
RESTRICTED: This link to the data set is only available for a restricted user group.  The data set is only accessible in CEN/MPI net or accessible from external nets with a customer account.  Please contact ICDC if you would like to access this data from outside the network.
Data access via file system: /data/icdc/atmosphere/fessthh2020/
Description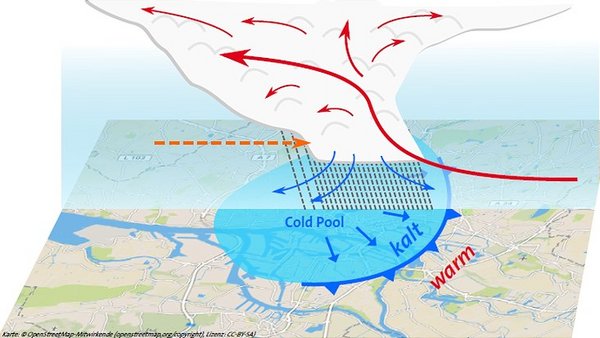 This data set contains meteorological measurement data collected during the Field Experiment on Sub-mesoscale Spatio-Temporal variability at Hamburg (FESST@HH) between June and August 2020. The observational set up of FESST@HH consisted of a ground-based network of 103 autonomous measurement stations (see photos), that covered the greater area (50 km x 35 km) of Hamburg (Germany; 53.5 °N 10.0 °E) with the primary goal to observe the spatial dimension of convective cold pools. During the experiment 82 low-cost and self-designed APOLLO (Autonomous cold POoL LOgger) stations sampled air temperature and pressure at 1-s resolution, while 21 WXT weather stations with commercial sensors provided additional information on relative humidity, wind speed and precipitation at 10-s resolution. All variables are sampled at a height of 3 m above ground, if not indicated otherwise.
The data are sorted on a daily basis in folders according to the measuring station. In addition, photos of all stations are available.
With the dense network of more than a hundred stations, which have been set up on the private property of many volunteers, the team from the Meteorological Institute has for the first time succeeded in recording the life cycle of cold pools under thunderstorms in space and time, as well as many other phenomena: the urban heat island, Baltic Sea fronts, floor winds and gravity waves.
Last update of data set at ICDC: March 2021
Parameters
Parameters of the FESST@HH data set

| Name | Unit | Comment |
| --- | --- | --- |
| Air temperature | K | APOLLO, 1-s res; WXT, 10-s res |
| Air pressure | Pa | APOLLO, 1-s res; WXT, 10-s res |
| relative humidity | 1 | WXT, 10-s res |
| wind direction | degree | WXT |
| wind speed | m s-1 | WXT |
| wind maximum | m s-1 | WXT |
| precipitation | kg m-2 | WXT, 10-s res |
Coverage, spatial and temporal resolution
Period and temporal resolution:
June to August 2020
1s or 10s
Coverage and spatial resolution:
Greater Hamburg area 50 km x 35 km with a center around 53.5 ° N 10.0 ° E
103 stations
Format:
Data quality
Sensor specifications:
APOLLO station:
 temperature: NTC thermistor probe TE Connectivity GA10K3MRBD1NTC (precision (relative): +/- 0.2 K at 0 - 70 °C)
pressure: Bosch BME280 (precision (absolute): +/- 1 hPa at 0 - 30 °C, precision (relative): +/- 0.12 hPa at 25 - 40 °C)
WXT weather station:
temperature: TMH cable sensor Pt1000 1/3 DIN Klasse B  (precision: +/- 1.3 K at 20 °C)
pressure, humuidity, wind, precipitation: Vaisala Weather Transmitter WXT536 
Contact
Bastian Kirsch
MI / CEN / University of Hamburg
E-Mail: bastian.kirsch (at) uni-hamburg.de

Felix Ament
MI / CEN / University of Hamburg
E-Mail: felix.ament (at) uni-hamburg.de

Annika Jahnke-Bornemann
ICDC / CEN / University of Hamburg
E-Mail: annika.jahnke-bornemann"AT"uni-hamburg.de
References
Websites:
Data citation, License, and Acknowledgments
Please cite the data as follows:
Kirsch, Bastian, Hohenegger, Cathy, Klocke, Daniel, Senke, Rainer, Offermann, Michael, & Ament, Felix. (2021). FESST@HH meteorological network measurements (Version v00) [Data set].

 

doi.org/10.25592/uhhfdm.8966
and with the following acknowledgments:
Thanks to ICDC, CEN, University of Hamburg for data support.
License
Data were published under the Creative Commons Attribution Share Alike 4.0 International (CC-BY-SA-4.0) license.