Impacts of sea level changes on coastal regions
Changes in sea level are one of the central problems caused by climate change, as they hold far-reaching consequences for the safety of the population groups affected. At the same time, here we see a number of interconnected factors – the global, regional and local developments are not all the same. In some areas, the sea level could even drop slightly. Of particular interest are the interactions between sea, land and ice. As such, how ice masses in the Antarctic will develop remains an unknown quantity and is largely dependent on the extent to which ocean circulation as well as heat and energy transport will change.
Coordination: Prof. Detlef Stammer
SPP - Regional Sea Level Change and Society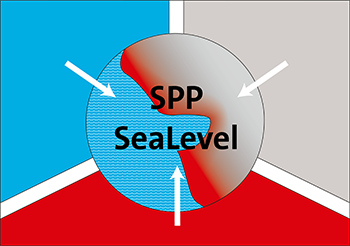 How will sea level rise in the future? Which strategies can be used to respond regionally to these changes?
The Programm "Sea Level" (Regional Sea Level Change and Society) will now explore these effects in two regions: Germany and the Southeast Asian region, with its diverse megacities and river deltas. Both regions differ significantly in technical, social, economic, political and cultural terms, so the analysis of the data will cover a wide range of potential scenarios worldwide.
The SPP sea level consists of 20 projects from 23 German research institutions, bringing together over 80 scientists from a wide range of disciplines, such as physical oceanography, geophysics, geodesy, hydrology, marine geology, coastal engineering, geography, sociology, economics and environmental management. SeaLevel is coordinated by CEN.
Duration: 2016-2023
Project leader:  Prof. Dr. Detlef Stammer
Sponsor: Deutsche Forschungsgemeinschaft (DFG)