Energy flux as a communicator of Earth system changes
Flows in the atmosphere and the ocean transport not only energy and momentum, but also water vapor as well as dissolved gases and carbon. And often very small-scale phenomena down to mere centimeters can shape the dynamics of global processes. This insight is important for coupled ocean-atmosphere models, e.g. in attempting to predict future changes in circulation patterns, water vapor or carbon transport. The goal is to arrive at a better theoretical understanding of the underlying dynamics and at more realistic simulations of these processes with the help of parameterizations and of mathematical and numerical models, which will enable us to make more reliable climate prognoses.
Coordination: Prof. Carsten Eden
TRR 181 - Energietransfer in Atmosphäre und Ozean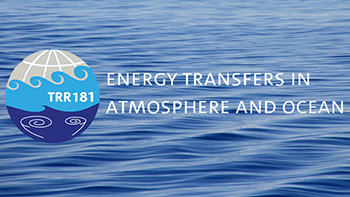 The energy of a closed system is steady. It is not lost but rather converted into another form, such as when kinetic energy is transferred into thermal energy or vice versa heat results in a force.
How exactly the energy transfer between waves, eddies and local turbulences in the ocean and the atmosphere works, often remains unclear. The interdisciplinary project "Energy Transfers in Ocean and Atmosphere" wants to change this: oceanographers, meteorologists and mathematicians from Hamburg, Bremen and Rostock work closely together to achieve this goal. The aim is to develop energetically consistent mathematical models and thus enhance climate analyzes and forecast accuracy. The project is funded by the German Research Foundation.
Duration: 2017-2020
Project leader:  Prof. Dr. Carsten Eden
Sponsor: Deutsche Forschungsgemeinschaft (DFG)