Science Year 2016*17 – Seas and Oceans
CEN's Science Year Logbook
Be amazed, discuss and get involved – Germany's Federal Ministry of Education and Research Science Year 2016*17 Seas and Oceans invited the public to rediscover our blue planet. CEN´s marine and climate researchers were actively involved in Science Year exhibitions and events.
November 13, 2017, "Seas and Oceans" exhibition goes ashore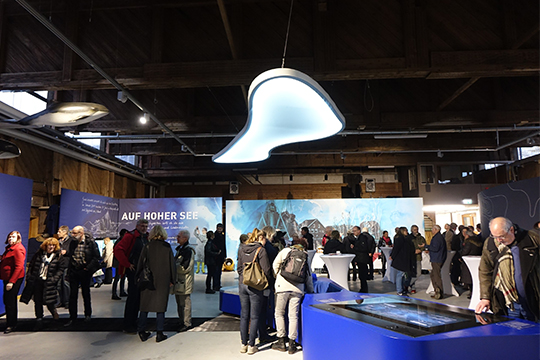 Foto: Emmy Yen / Explo Heidelberg
Even though the Science Year 2016*17 "Seas and Oceans" has come to an end, the accompanying exhibition can still be seen: Most of the exhibits from the "MS Wissenschaft" will be on display at Heidelberg Zoo's Explo Halle until April 15 2018. "This is a first for the MS Wissenschaft, as well as for us," enthuses Petra Mohr, the exhibition director. "Never before have the ship's amazing exhibits been shown on land."
For the last two years, the floating exhibition has successfully toured Germany and Austria, and has attracted more than 210,000 visitors. The converted freight ship MS Wissenschaft called at 75 towns and cities – on board were exhibits and hands-on activities for school students, children and adults developed by the "Wissenschaft im Dialog" (Science in Dialogue) initiative and marine research institutions from all over Germany.
To the exhibition (German only)
July 21, 2017, Royal Visit: William and Kate meet young marine researchers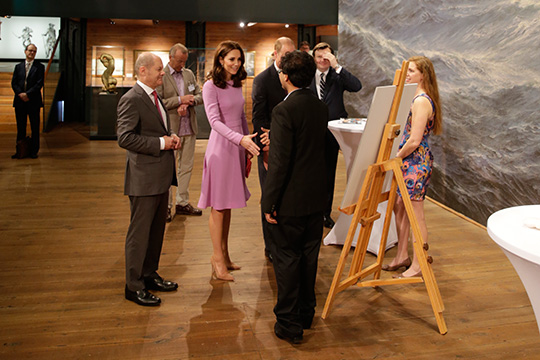 Photo: R. Magunia / Staatskanzlei Hamburg
During their visit to Hamburg on Friday, Prince William, heir to the British throne, and his wife Kate showed their interest in marine research. At the International Maritime Museum they met young scientists from Bremen, Kiel and Hamburg and talked about the German-British Year of Science 2016*17 "Seas and Oceans." The researchers had plenty of fascinating stories to share about their work in the Arctic and the ocean's depths. Two students from the SICSS Graduate School explained to the couple the changes in the sea ice on the Arctic coasts, and the Arctic Basin's key role in global climate systems.
June 8, 2017, CEN/CliSAP supports the Schülerkongress "MeerKlima entdecken" at Universität Hamburg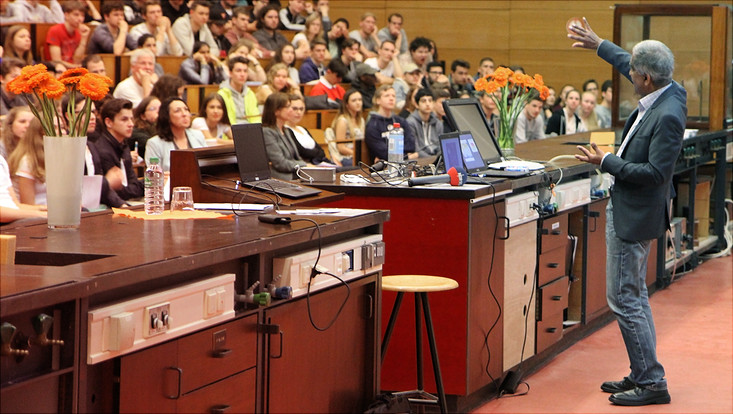 Photo: UHH/MIN/M. Nicolai
At 8th of June, more than 650 students joined the Schülerkongress ´MeerKlima´ at Universität Hamburg. In diverse lectures and workshops about several topics in maritime research, they learned about sea level change, ocean acidification and more. Twenty researchers some of them part of the CEN gave lectures. The keynote speaker was the renowned climate researcher Mojib Latif. Another highlight was a live interview with researchers on board the research vessel Meteor in the south pacific area. The congress was organized by the students themselves and financed by the Federal Ministry for Education and Research.
Review to the Schülerkongress "MeerKlima entdecken" (German only)
Homepage of Schülerkongress' MeerKlima entdecken (German only)
April 7, 2017, The MS Wissenschaft hoists anchor again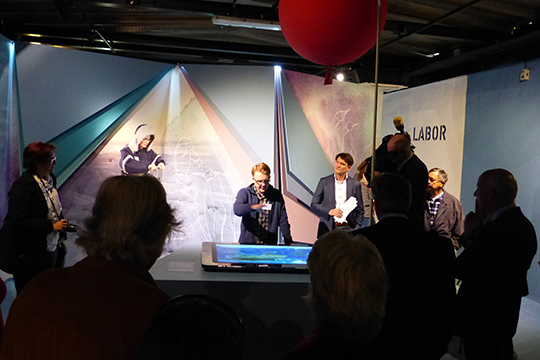 Photo: WiD/M. Grüber 
After the exhibition ship MS Wissenschaft had toured the north of Germany in 2016, it now heads south. Numerous institutions, such as CEN, contributed exhibits as well as know-how to make the exhibtion a success. CEN-oceanographer Simon Wett presented our Multitouch-Table on ocean currents during the opening in Bonn. See all ScienceStation tour-dates 
April 5, 2017, ScienceStation: CEN's Multitouch-Table is on board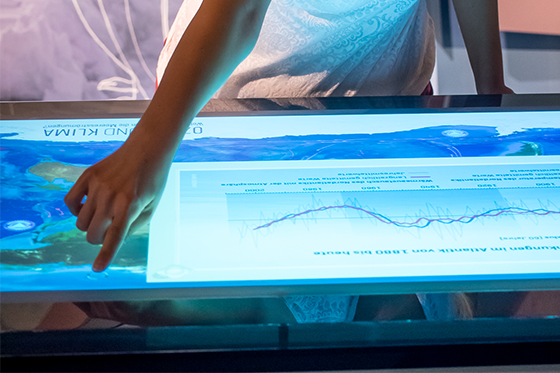 The project ScienceStation is on tour again in 2017. From May 3 until September 28, the interactive exhibtion will visit train stations in Potsdam, Frankfurt, and Berlin (tour plan). The hand-on exhibition encourages visitors of all ages to interact with the exhibits. Together with numerous insitutions, CEN is part of ScienceStation and provides its Multitouch-Table on ocean currents.
March 13, 2017, Deutsches Museum: climate science students interview visitors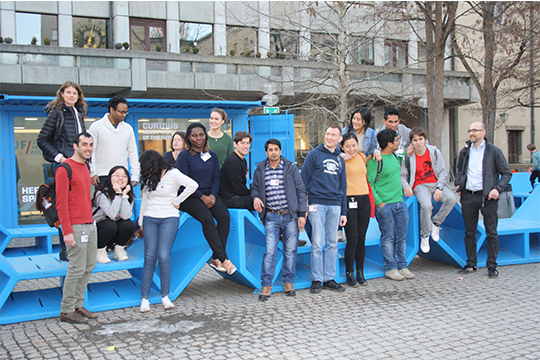 Photo: Deutsches Museum/Kramer
During an excursion to the Deutsches Museum in Munich, master's students from the School of Integrated Climate System Sciences (SICSS) interviewed visitors about the exhibitions there. The interviews were part of the seminar "Introduction to Social Science Methods" in which students learn about social science research methods. Go to full report.
December 19, 2016, Source of conflict – sea level: How those in affected regions are adapting to the threat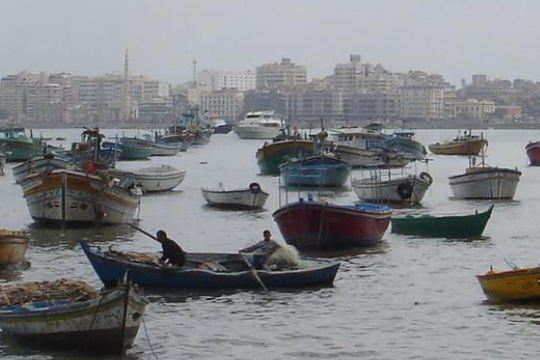 The DFG, together with CliSAP experts Prof. Jürgen Scheffran and Dr. Michael Link, recently published a new Klimataucher dossier on rising sea levels' impacts on small islands and large river deltas. The researchers are investigating how people in these regions are adapting to the threats and what needs to be done to minimize the potential for conflict. Go to the full DFG Klimataucher Dossier.
November 9, 2016, Are their fates sealed? How developing countries are tackling climate change
The DFG, along with CliSAP experts Prof. Jürgen Scheffran, Dr. Michael Link and Prof. Beate Ratter, released a new Klimataucher video on security risks in developing countries, water distribution in the Nile Delta and small islands threatened by climate change.
September 8, 2016, Exhibition ship MS Wissenschaft ends this year's tour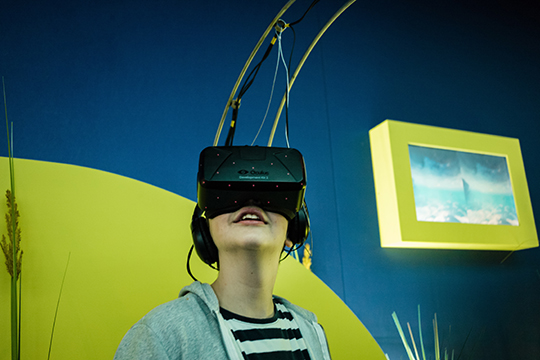 Four months, 33 cities, 2,300 kilometers and 85,000 visitors: Today the exhibition ship MS Wissenschaft ended its first tour in the Science Year 2016*17. The "Wissenschaft im Dialog" initiative designed and created the "Seas and Oceans" exhibition on behalf of the German Federal Ministry for Education and Research. A number of German institutes, including the CEN, provided exhibits and expertise for the exhibition. In Hamburg, Berlin and Kiel, CEN scientists answered countless questions on the topic of seas, oceans and climate change from visitors and workshop participants. 
The MS Wissenschaft's second voyage will begin later this year: In late April 2017, the floating science center will set sail from Bonn on a tour through central and southern Germany and ending in Austria.
July 1, 2016, Prof. Johanna Baehr on El Niño and seasonal forecasts
To coincide with the Science Year, the German research Foundation DFG's web special Klimataucher presents projects it is funding in the field of climate and marine research. How well can we predict the weather and climate and what do we need for such prognoses? Using the climate phenomenon El Niño as an example, the oceanographer Johanna Baehr explains why, though it's theoretically possible to forecast possible climate developments, making concrete predictions about the future weather is neither feasible nor wise. Go to the full DFG Klimataucher Dossier.
June 4, 2016, Ocean Workshop in Berlin
At the Science Year Ocean Workshop, visitors together with scientists, designers and information scientists spent two days fine tuning ideas for improving the research on, utilization and protection of the seas.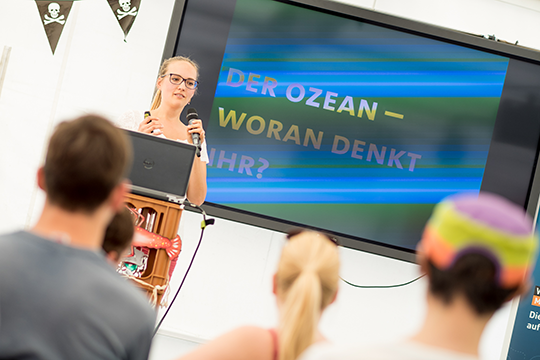 Photo: UHH/CEN/M. Ruhnau
At the Ocean Workshop, CEN Research Coordinator and Oceanographer Meike Ruhnau talks about climate research in Hamburg and the sub-fields of physical oceanography..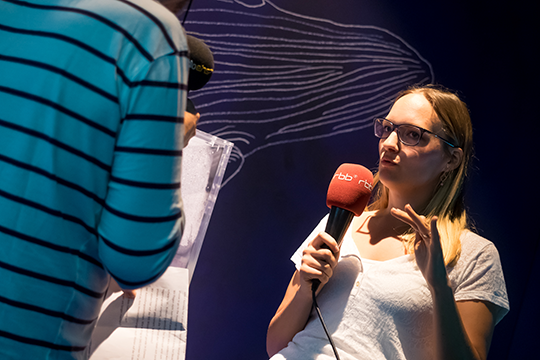 Photo: UHH/CEN/M. Ruhnau
The rbb reports live from the Ocean Workshop. Meike Ruhnau in "Die Profis" on rbb radioeins
May 13, 2016, MS Wissenschaft in Hamburg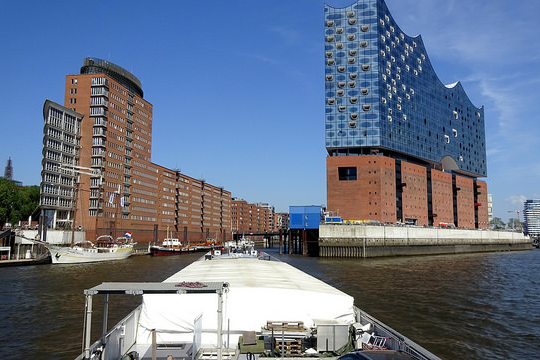 Photo: WissRedaktion
The MS Wissenschaft anchors at Hamburg's Sandtorhafen (Kaiserkai) over Pentecost.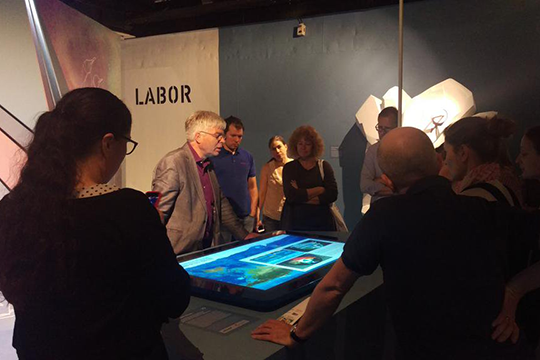 Photo: UHH/CEN/M. Ruhnau
Oceanographer and CEN Director Detlef Stammer answers questions from visitors and journalists.


May 3, 2016, MS Wissenschaft sets sail from Kiel on its exhibition tour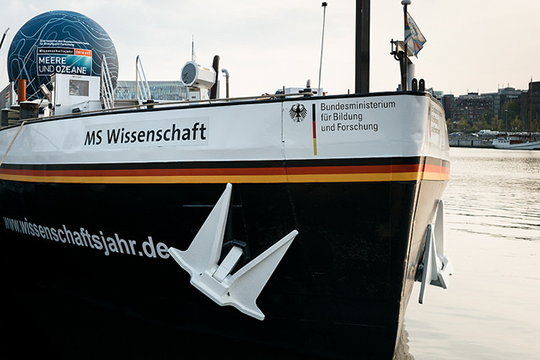 Photo: WissRedaktion
In the Science Year 2016*17, the MS Wissenschaft has the "Seas and Oceans" exhibition on board. On the 100-meter freight ship, visitors can embark on a research expedition: they are immersed in the world of the seas and oceans, allowing them to explore habitats like coasts, the high sea, deep sea and ice sea and gain insights into the multifaceted work of researchers.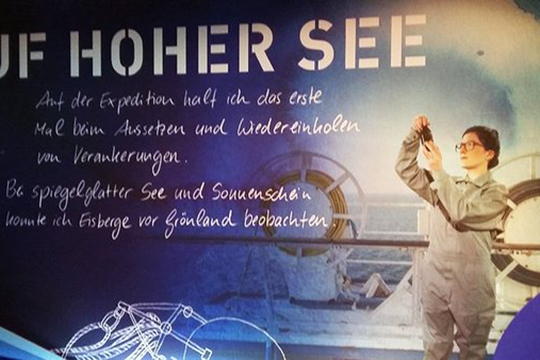 Photo: WissRedaktion
Oceanographer Dr. Julia Köhler from the CEN is one of four scientists who described their research work and talked about what life is like on a marine expedition.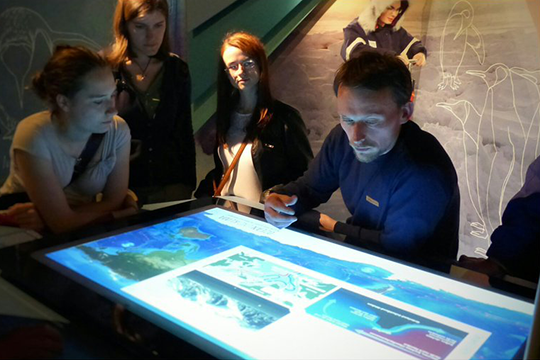 Photo: M. Moritz
The Cluster of Excellence CliSAP's multi-touch "ocean and climate" table is also on board. At the "Meet the Scientist" event in Kiel, CEN Oceanographer Martin Moritz explains the role of ocean currents in the world's climate.
---