Soil Map of the World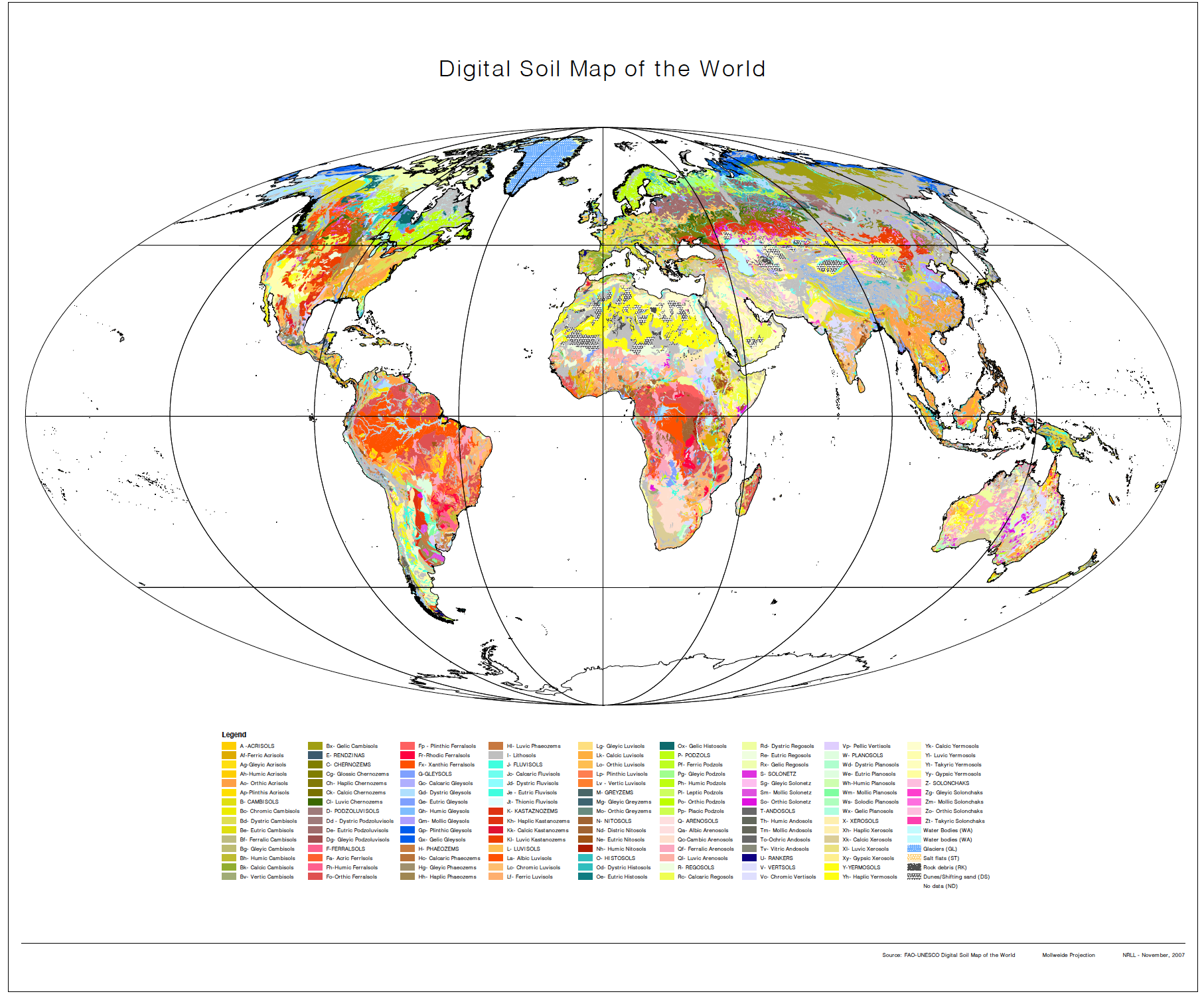 Topics
Access
UNRESTRICTED:
Description
The newest digitized version of the "Soil Map of the World" (SMW) classified according to the "World Reference Base for Soil Resources" (WRB). The WRB is the international standard taxonomie soil classification system, developed by the "International Soil Reference and Information Centre" (ISRIC), the "International Union of Soil Sciences" (IUSS) and the "Food and Agricultural Organization" (FAO) for the first Soil Map of the World in 1988. The vector data set is based on the FAO-UNESCO "Soil Map of the World".
The Digitized Soil Map of the World, at 1:5,000,000 scale, is in the Geographic projection (lat/long) intersected with a template containing water related features. It was intersected with the Country Boundaries map from the World Data Bank II. For Africa, the country boundaries are derived from the FAO Country Boundaries on the original FAO/UNESCO Soil Map of the World.
Last update of data set at ICDC:
Parameters
Digital soil type map of the world at scale 1:5.000.000.
Coverage, spatial and temporal resolution
Period and temporal resolution:
temporal mean values
period ends in year of version
Coverage and spatial resolution:
Global, only land, Antarctic excluded
Spatial resolution: 3' x 3', cartesian grid
Geographic longitude: 180°W to 180°E
Geographic latitude: 90°S to 90°N
Dimension: 3600 rows x 7200 columns
Altitude: following terrain
Format:
Vector and raster, EPS pictures
PDF Document
klm google earth
and other
Data quality
Only two additional soil maps at a global level exist, both in relatively large scale.
Furthermore there are several simplifications, which differ in scale and subject matter. The FAO-UNESCO Soil Map of the World is generally accepted as the most appropriate source of soil information for studies at a global range.
Contact
Ronald Vargas
FAO-UN - Land and Water Division (CBL) / Rome / Italy
email: ronald.vargas@fao.org

Stefan Kern
ICDC / CEN / University of Hamburg
E-Mail: stefan.kern"AT"uni-hamburg.de
References
Literature:
Websites:
Data citation
Please cite the data as follows:
FAO-UNESCO Digital Soil Map of the World, [year, version] 
and with the following acknowledgments:
Thanks to ICDC, CEN, University of Hamburg for data support.