Surface Solar Radiation Parameters (SARAH-2) from EUMETSAT CM-SAF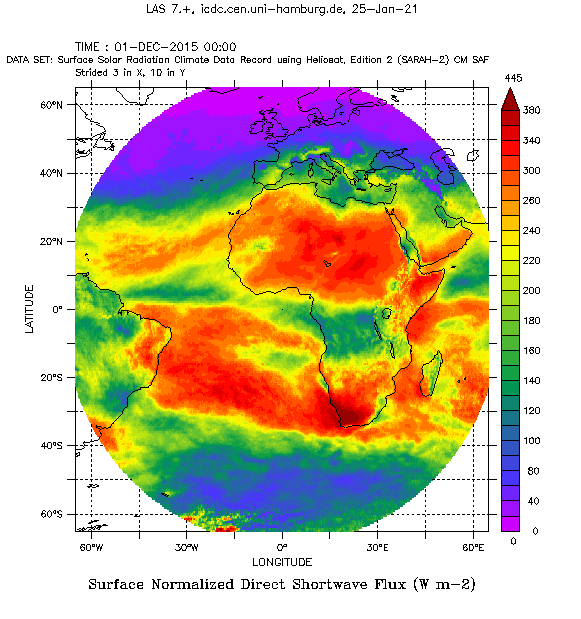 Topics
Access
RESTRICTED: This link to the data set is only available for a restricted user group.  The data set is only accessible in CEN/MPI net or accessible from external nets with a customer account.  Please contact ICDC if you would like to access this data from outside the network.
Data access via file system: /data/icdc/land/eumetsat_surfacesolarirradiance
Description
The SARAH-2 data set comprises five parameters related to the surface solar irradiance, four of which we offer here for internal use: cloud effective albedo (CAL), surface incoming shortwave radiation (SIS), surface incoming direct shortwave radiation (SID), and surface direct normalized shortwave radiation (DNI). All these are derived from observations of the geostationary first generation (Meteosat-MVIRI) and second generation (Meteosat-SEVIRI) satellite sensors. The data set therefore basically covers Africa, Europe, and most of the Atlantic Ocean.
This EUMETSAT CM-SAF data product is based on a combination of the Heliosat approach to obtain the effective cloud albedo from raw data obtained by the MVIRI and SEVIRI sensors (Hammer et al., 2003) with a radiative transfer model specifically designed for clear sky conditions (MAGIC, Mueller et al., 2009, Mueller et al., 2015), see references..  The Heliosat approach is merely based on MVIRI data while the radiative transfer model MAGIC and the final irradiance retrieval requires a number of additional parameters: atmospheric total water vapor content (see ECMWF reanalyses at ICDC), a monthly ozone climatology, the surface albedo (SARB/CERES) and a monthly aerosol climatology. Together the approach is referred to as MAGICSOL (see Posselt et al., 2012, 2014 in references). More information is given in the Product User Manual (PUM) and in the Algorithm Theoretical Basis Document (ATBD), see references..
The Eumetsat CM-SAF SARAH ed. 2 and its extenion 2.1 product offered here comes at monthly temporal resolution; daily data can be provided upon request for internal users.
Last update of data set at ICDC: February 16 2023.
Parameters
Parameters of the surface solar radiation data set

| Name | Unit | Comment |
| --- | --- | --- |
| Surface incoming solar radiation (SIS) | W/m² | SIS = (1 - CAL) * SIS_clear-sky |
| as above but for "blue sky" (model result) | W/m² | SIS_clear-sky |
| Surface incoming direct solar radiation (SID) | W/m² | relative to a horizontal plane, wavelengths: 0.2 - 4.0 µm |
| as above but for "blue sky" (model result) | W/m² | SID_clear-sky |
| Surface incoming direct normalized solar irradiance (DNI) | W/m² | normalized with respect to sun zenith angle (SZA) |
| as above but for "blue sky" (model result) | W/m² | DNI_clear-sky |
| Effective cloud albedo (CAL) | none |   |
Coverage, spatial and temporal resolution
Period and temporal resolution:
Monthly: 1983-01 to 2017-12
Daily data of the same period are available on request for internal users.
Coverage and spatial resolution:
Meteosat Disc Area (see Figure above)
Spatial resolution: 0.05° x 0.05°, geographic grid
Geographic longitude: about -65°E to 65°E
Geographic latitude: about -65°N to 65°N
Dimension: 2601 columns x 2601 rows
Altitude: following terrain
Format:
Data quality
This data set does not contain separate uncertainty information. The approach has been validated with observations carried out at station of the Baseline Surface Radiation Network (BSRN). BSRN stations used for the validation have been selected carefully. These cover different altitudes and climate zones and have observed solar irradiance for at least one complete annual cycle overlapping the MVIRI time series.
About 95% (almost 85%) of the monthly mean absolute difference values of SIS and SID (DNI) are within the target / threshold values. The mean absolute differences of the monthly mean SIS and SID are well below the target values: 5.1 W/m² and 7.8 W/m² while for DNI these are close to the target value: 16.4 W/m².
Details about the validation and evaluation are given in the CM-SAF Validation Report as well as in the papers by Posselt et al. (2012 and 2014), Mueller et al., (2015), and Pfeifroth et al. (2018), see references.
Contact
Climate Monitoring Satellite Application Facility (CM-SAF)
Helpdesk at www.cmsaf.eu
email: contact.cmsaf (at) dwd.de

Stefan Kern
ICDC / CEN / University of Hamburg
email: stefan.kern (at) uni-hamburg.de
References
Literature:
Data citation
Please cite the data as follows:
Pfeifroth, U., Kothe, S., Müller, R., Trentmann, J., Hollmann, R., Fuchs, P., Kaiser, J., and Werscheck, M., (2019): Surface Radiation Data Set - Heliosat (SARAH) - Edition 2.1, Satellite Application Facility on Climate Monitoring, DOI:10.5676/EUM_SAF_CM/SARAH/V002_01, https://doi.org/10.5676/EUM_SAF_CM/SARAH/V002_01 .
and with the following acknowledgments:
Thanks to ICDC, CEN, University of Hamburg for data support.