Physically based rendering of a high-resolution ICON-LEM cloud simulation
This animation shows a HD(CP)2 ICON-LEM cloud simulation [1] that was carried out on a 625m horizontal resolution domain centered over Germany. The visualised variable is the sum of cloud water and ice, the time resolution and interval are 1 minute and 12 hours, respectively (29. May 2016, 12:00-24:00 hrs).
The large size of the data set was handled by employing a sparse volumetric data structure. Thus, in a preprocessing step, the data was converted from its original NetCDF format to OpenVDB [2], while only variable values above a selected threshold were added to the VDB hierarchical tree. The rendering was carried out with the help of a customizable volume shader employed by a physically based engine [3].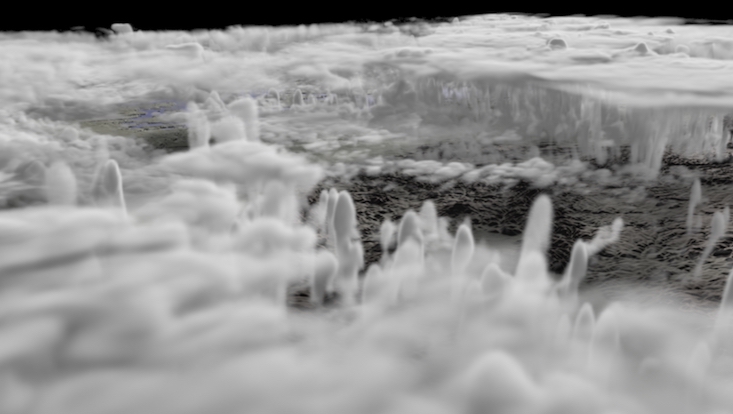 Physically based rendering of a high resolution ICON-LEM cloud simulation
1. "High definition clouds and precipitation for advancing climate prediction" project website
2. OpenVDB, an open-source library for efficient storage and  manipulation of large sparse volumetric data
3. HoudiniFX, a fully procedural software that has integrated the OpenVDB format