The CEN School
The CEN School aims to help young academics thrive through all stages of their training at the CEN. By furthering a research-oriented approach to academic education the CEN members support collaborative bachelor's and master's degree programs in geosciences, social sciences, and humanities. Early on, the students are encouraged to expand their subject-specific focus by engaging in interdisciplinary exchange and cooperation. They conduct project-oriented and practical tasks that are mostly integrated in transdisciplinary and international research projects of the CEN.
Core elements of the CEN School are a two-year master's program and a three-year doctoral program in integrated climate and earth system sciences.
Degree Program ICSS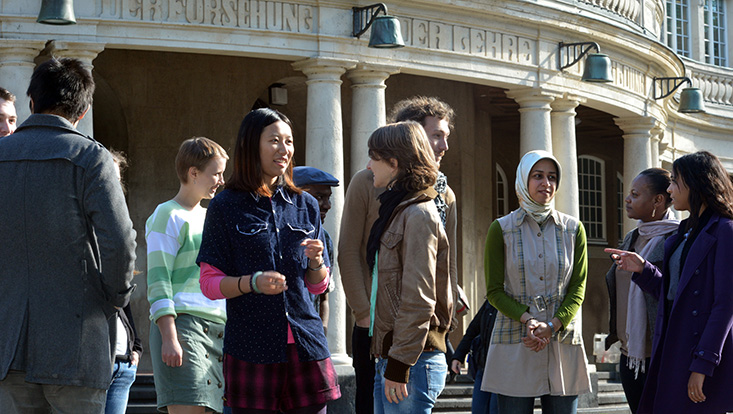 Leading to an international Master of Science (MSc) the degree program Integrated Climate System Sciences (ICSS) comprises a two-year, English-language curriculum covering all facets of climate research from natural sciences to social sciences and economics. The committed CEN staff ensures a high degree of interdisciplinary teaching while the students' early integration into CEN research groups fosters research-oriented learning. ICSS graduates are qualified to work as climate experts in a great number of research areas all across the globe. Over half of our graduates move on in the international arena, for instance, through pursuing a doctorate.
Doctoral Program
The CEN School's structured doctoral program has a subject-specific curriculum devised to boost core skills and chart a course for successful research careers. A support panel provides doctoral candidates with individual guidance up to their oral defense. Furthermore, the program offers tailor-made career advising all throughout degree completion and various continuing education opportunities.
Distinguishing features of the master's and doctoral program are a high degree of internationalization and utmost gender balance.
Post-Docs
Our master's and doctoral training are complemented with a broad spectrum of individual assistance for aspiring post-docs. This includes mentoring and advising on behalf of the Board of Directors, the Head of School, or members of the Faculty. Subject-oriented workshops on acquiring funding, publishing matters, and managing projects are part of the package. Further sparks of the CEN School's postdoc portfolio are alumni and network activities plus offerings in science policy and society.
All CEN programs promoting young researchers are an integral part of processes and structures of the Hamburg Research Academy (HRA)—the University's center for graduates.
---