8 February 2023, by Dr. Rolf Koppelmann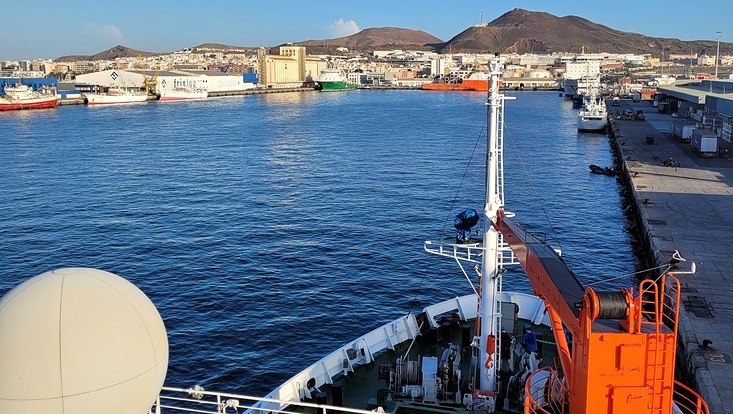 Photo: Rolf Koppelmann
The voyage of the research vessel began in Las Palmas, Spain.
How do students best learn to explore the sea? On board a research vessel! Students from the University of Bremen and the University of Hamburg took part in the expedition with the research vessel Meteor. In January, the voyage started in Las Palmas, Spain, and ended in Walvis Bay, Namibia.
The Institute of Marine Ecosystem and Fisheries Sciences (IMF) at the University of Hamburg is involved in the Center for Earth System Research and Sustainability (CEN) and studied phytoplankton, microzooplankton, and hydrography of the Atlantic Ocean on this cruise. Phytoplankton consists of small unicellular algae that are primary producers and form the basis of the marine food web. Microzooplankton consists of unicellular and multicellular organisms that act as primary consumers in the food chain.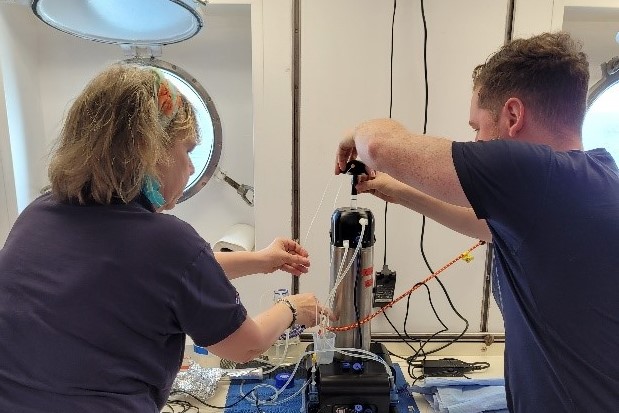 To familiarize the students with current methods of marine research, they were integrated into the work of the AtlanTIC project. They learned how data and samples are collected at sea and how the results are processed, analyzed and interpreted. The students worked in small groups on physical oceanography, phytoplankton production and biodiversity, micro- and mesozooplankton biodiversity, macrozooplankton and mesopelagic fishes, and seabird and marine mammal observations, and prepared reports, gave presentations, and produced videos of their work. These activities were accompanied by lectures and seminars given by the lecturers. Thus, the research vessel Meteor was transformed into a floating university.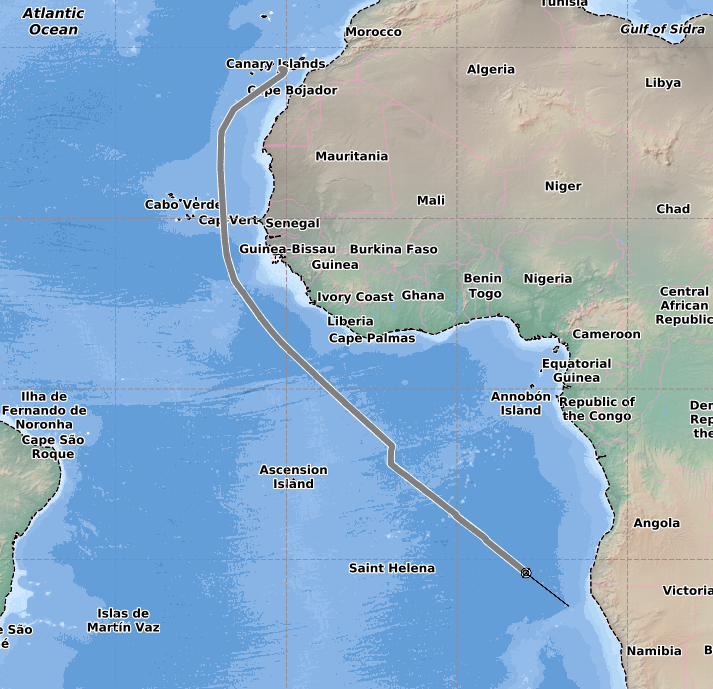 Marine ecosystems are strongly influenced by climate change. At the same time, biological processes in the water column affect the carbon cycle, causing a feedback with the global climate system. Zooplankton plays a key role in the biological carbon pump in the ocean. They provide the main link between unicellular algae as primary producers and higher trophic levels, such as fish and apex predators. Through consumption, fecal pellet production, respiration, and vertical migration, zooplankton and micronekton contribute to active carbon transport from the surface layer of the ocean to the deep sea.
Expedition with the research vessel Meteor
Students from the Universities of Bremen and Hamburg participated in an expedition on the research vessel Meteor (cruise M186/2) from Jan 02 to Jan 23, 2023. The voyage started in Las Palmas, Spain, and ended in Walvis Bay, Namibia. The expedition was conducted as part of the AtlanTIC project, which focuses on the productivity, feeding relationships, and functional biodiversity of pelagic communities in different regions of the Atlantic Ocean and their influence on the carbon cycle.
Universität Hamburg currently operates three German research vessels, which are active worldwide. The SONNE and METEOR belong to the Federal Republic of Germany, represented by the Federal Ministry of Education and Research. The MARIA S. MERIAN belongs to the Federal State of Mecklenburg-Vorpommern, represented by its Ministry of Science, Culture, Federal and European Affairs. The German Research Fleet Coordination Centre, part of the University, is responsible for ship operations, and for the scientific-technical, logistical and financial organization of all expeditions.