UrbMod metadata portal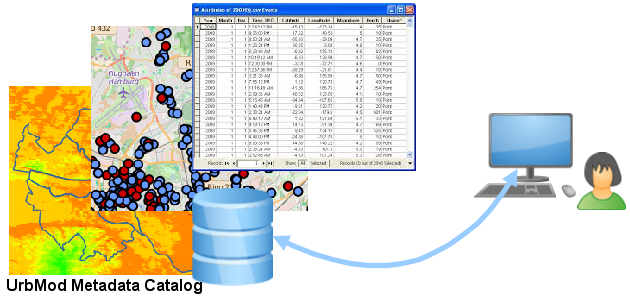 What is metadata?
Metadata is data that provides information about other data. Metadata was traditionally used in the card catalogs of libraries. As information has become increasingly digital, metadata is also used to describe digital data using metadata standards specific to a particular discipline.
For example, a book's title and author is metadata. Digital image may include metadata that describe how large the picture is, the color depth, the image resolution, when the image was created, and other data.
Metadata management can be defined as the end-to-end process and governance framework for creating, controlling and managing a metadata schema, or other structured aggregation system.
The aim of metadata catalog within UrbMod project
The key driver for setting up the metadata portal is that project participants can navigate through the project results dataset regardless of where the data resides physically. UrbMod metadata portal is a gateway to Web-based resources (typically geospatial data), enabling users and visitors to discover, preview and access information and services made available by their providing organizations. Likewise, data providers can use the portal to make their resources discoverable, viewable, and accessible to others.
Using common metadata format further ensures that all project participants are working with the same quality-controlled datasets, as well as the results produced are prepared and presented in user-friendly manner. The structure of the internal database used by this portal is geared to the conceptual model for health-realted urban well-beeing, developed in UrbMod project.
Metadata portal link:
---