New Mechanism to Stabilize CO2 Prices
After years of concern over low CO2 prices, the opposite is now preoccupying European policymakers: The price of emission allowances has quadrupled in the last two years, accompanied by violent price fluctuations. In the current negotiations on the reform of EU climate policy in connection with the Green Deal, the debate is centering on suitable means of preventing such violent price swings in the future.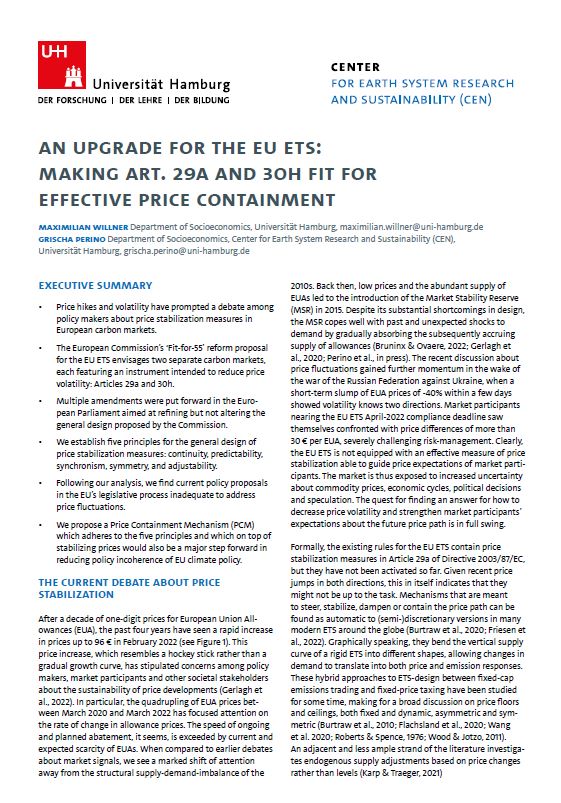 --> Full Paper Policy Brief (pdf)
In a mid-2021 reform proposal presented by the EU Commission for the existing emissions trading system in the energy and heavy industry sectors (ETS-1) and a new emissions trading system to be set up for road transport and buildings (ETS-2), each envisage similarly designed mechanisms to stabilize the price. Professor Grischa Perino and Dr. Maximilian Willner are environmental economists conducting research at the Center for Earth System Research and Sustainability (CEN) at the University of Hamburg. They show that the proposed interventions are not suitable for stabilizing the market for emission allowances.
The authors identify five principles for a robust and effective design of a price stabilization mechanism: continuity, predictability, symmetry, synchronism, and adjustability. Perino and Willner have examined the present Commission proposal with regard to these principles. The result is clear: In its current form, the draft is not capable of stabilizing the market for emission allowances and thus also the price. On the contrary, the proposal could have the opposite effect: Market participants could become more uncertain.
The researchers propose a new Price Containment Mechanism (PCM) based on the five principles mentioned. The PCM does not attempt to achieve or prescribe specific prices – in this way, not impairing the market's function. The PCM is a fully automatic mechanism that provides a clear framework for market participants and policymakers and supports the formation of expectations.
Specifically, the PCM compares the average price per emission allowance from the previous quarter with that of the same quarter in the previous year. In the event of a price change beyond a fixed activation threshold, e.g. +/- 20%, it either adds emission allowances to the auctions in the coming quarter or withholds them. In doing so, the PCM continuously adjusts the size of the intervention to the observed price change so that small differences do not result in sudden jumps in the size of the intervention. Unlike existing proposals, the PCM is also symmetric and can dampen a price decline.
Another feature is the synchronization of the market intervention with the annually decreasing EU ETS emissions cap and the ongoing adjustment for inflation. With this flexibility, the PCM can bring long-term stability to the market. The PCM is also a worthwhile alternative to the existing Market Stability Reserve, as it can fully replace its functions.
With this proposal, Willner and Perino lay the foundation for a reform of the EU ETS that sustainably corrects the system's increasingly obvious design and structural problems.
Publikation CEN Policy Brief:
Willner M, Perino G: An Upgrade for the EU ETS: Making Art. 29a and 30h fit for effective price containment (pdf)