Jacques Cousteau's stalactite tells us about prehistoric climate
13 December 2017, by CEN Universität Hamburg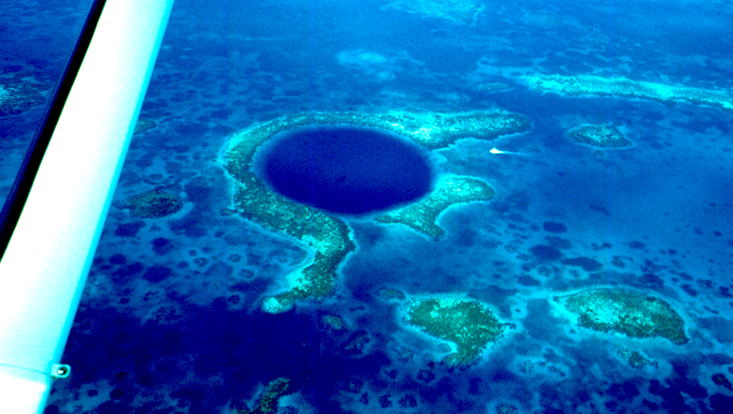 Photo: Eberhard Gischler
Belize´s Blue Hole: Jacques Cousteau discovered a giant stalactite fifty years ago.
Stalactites reveal much about the climatic conditions of the past through their layering. However, if microbes are involved, they can change these deposits. Daniel Birgel and Jörn Peckmann from CEN in a joint effort with colleagues from Germany and the USA found out how the layers can still be interpreted - on a stalactite once discovered by Jacques Cousteau.
By Jörn Peckmann
Stalactites forming in many karst caves today are increasingly used as an archive of climate change. A most unusual stalactite was discovered in 1970 by the French ocean explorer Jacques Cousteau in the famous Blue Hole off the coast of Belize. Unlike most stalactites, this stalactite exhibits layers of marine carbonate around a core that precipitated from fresh water in a former cave environment. Almost fifty years after discovery and sampling of the Blue Hole stalactite, its secrets now begin to be disclosed. The concentric layers of the 2.84 m long and 1 metric ton heavy stalactite allow for a detailed reconstruction of climate change during the Pleistocene and the Holocene. The older, meteoric core of the stalactite revealed that climatic conditions have been surprisingly dry in the study area during the Last Glacial Maximum.
However, climate reconstruction is hampered by the circumstance that carbonate formation was impacted by microbial activity during all growth phases of the stalactite. The new study published this week deciphers in which ways microbes were involved in stalactite formation. Such knowledge is setting the stage for improved paleoenvironment reconstructions based on stalactites that formed in coastal karst caves, which were later on flooded during the Holocene.
Publication: A giant under water, encrusted stalactite from the Blue Hole, Lighthouse Reef, Belize, revisted: a complex history of biologically induced carbonate accretion under changing meteoric and marine conditions
Contact: Prof. Dr. Jörn Peckmann
Center for Earth System Sciences and Sustainability (CEN)
Tel.: +49 40 42838-4996
E-Mail: joern.peckmann"AT"uni-hamburg.de
---