Climate Change: Hyperactive oysters and stressed carps
14 September 2017, by Franziska Neigenfind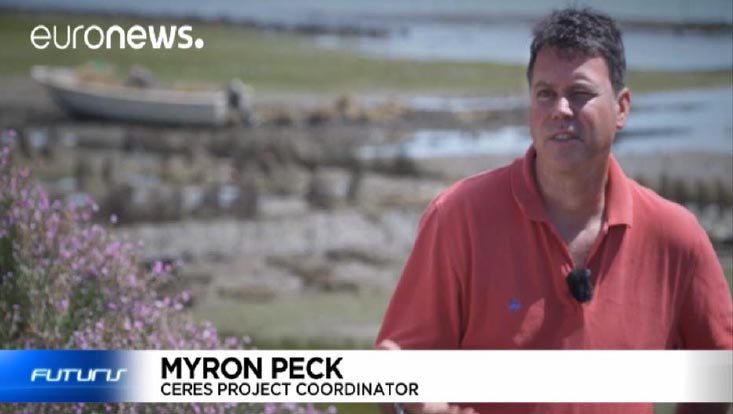 Photo: euronews
By the end of the century, seawater temperatures could rise between 2 and 4º centigrade, according to the most pessimistic forecasts of the International Panel on Climate Change (IPCC). What would be the consequences on fish and shellfish with a high commercial value? What do fishermen, companies, and operators of aquaculture need to know? The EU-project CERES coordinated at Universität Hamburg (Climate Change and European aquatic RESources), brings industry and research together
Looking for answers, researchers get together at various places – like Tavira, Portugal. Marine biologists here want to understand how rising levels of temperature, salinity and acidity in the water may affect the physiology of oysters. The marine biologist Domitilia Matias says: "In warmer waters, oysters dramatically increase their filtering activities. Their metabolism speeds up. And this continuous filtering effort absorbs a lot of their energy. This affects their growth; the length of their shells may become smaller and their bodies may accumulate less weight".
Elsewhere in northern Poland, a nearby power plant heats the water which runs through a unique experimental aquaculture farm. Researchers study how carp, a key local fish resource, adapt to a warmer environment. Jacek Sadowski, a fish nutritionist from the West Pomeranian University of Technology, says: "The warmer the water, the more stressed the whole physiology of the carp becomes. And this stress makes them more vulnerable to attacks from viruses and bacteria".
The aim of CERES is to prepare the industry to meet the challenges of the climate change, explains project coordinator and biological oceanographer Myron Peck. "So we can predict how fast the fish are going to grow, what ultimately might happen to certain population stocks. And then we also have economic modeling involved, and that is where we can look at the effects on farmers or fishermen".
Oysters and other species of high commercial value are being studied in the European research project CERES aimed at understanding how climate change will influence Europe's fish and shellfish.
The film on the project: "Fish in a new climate"
Further information about CERES
This project receives funding from the European Union's Horizon 2020 research and innovation programme under grant agreement No 678193 (CERES, Climate Change and European Aquatic Resources).
---