Young and international: climate-friendly business ideas at the 'Climate-KIC'
7 August 2019, by Ute Kreis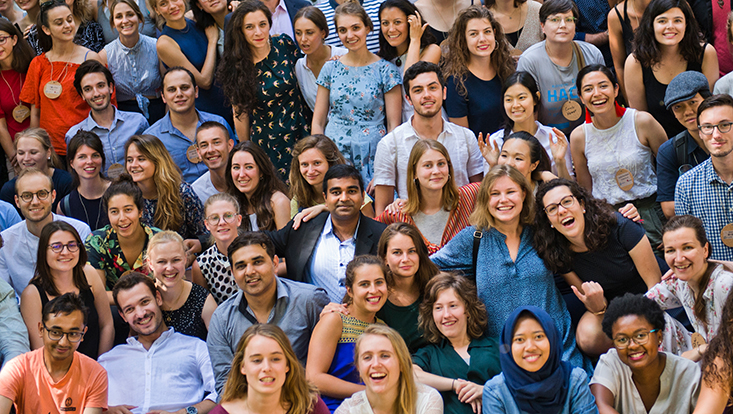 A breath of fresh air in the hallowed Mozart Halls, located beside Hamburg's main university building – not to mention plenty of action! More than 250 students from 31 countries across Europe, Canada, Hong Kong, Pakistan and Taiwan gathered last week for the 'EIT Climate-KIC Journey Summit' in Hamburg.
Producing energy using the ocean tides instead of climate-harmful diesel generators; providing broad-scale greening and better air for our cities with moss coatings for buildings; capturing and recycling the CO2 from wine production … in the course of four days, the summit participants presented their ideas and business models for sustainable development and a climate-friendly future.
What's possible? How can it be implemented? And how do we turn it into a business model? – with these and other key questions in mind, three weeks earlier the teams had prepared and refined their ideas in major European cities from Copenhagen to Lisbon, Riga and Košice. In Hamburg, it was time to show their projects to a committee of experts – in the form of professional presentations, complete with a business plan. CEO Kirsten Dunlop aptly summarized the goal of the Climate-KIC summit: "The climate problem can't be solved without innovations." Consequently, engagement and entrepreneurship were more than welcome!
The summit meant plenty of work and extremely full days for the participants. Nevertheless, the atmosphere – despite being over 30 degrees Celsius in the shade – remained positive throughout. Professional input was provided by Prof. Detlef Stammer, CEN Director and Chair of the World Climate Research Programme, and by representatives of Hamburg-based businesses and startups. A further source of inspiration: the talk by Sandrine Dixson-Declève, President of the renowned Club of Rome, during which she expressly stressed that a transformation can still be achieved – and supported her claim with examples from a diverse range of countries and sectors.
Universität Hamburg has been a member of the EIT European Institute of Innovation & Technology (EIT) for more than 10 years, and has previously hosted different legs of the Climate-KIC Journey. This year, for the first time it also took over the organization of the subsequent Communication Event. "Hamburg is known for its outstanding climate research, in which we bring together the natural and social sciences," reports organizer Prof. Annette Eschenbach, who also heads the CEN's international graduate school (SICSS). "In the process, we never lose sight of research's practical applications, of the search for solutions and necessary innovations, which is why we're particularly pleased to host this extraordinary event."
---