This page:UHH > CEN - Center for Earth System Research and Sustainability > About CEN > News > News 2020 > Climate policy is also peace policy
Climate policy is also peace policy
16 June 2020, by Stephanie Janssen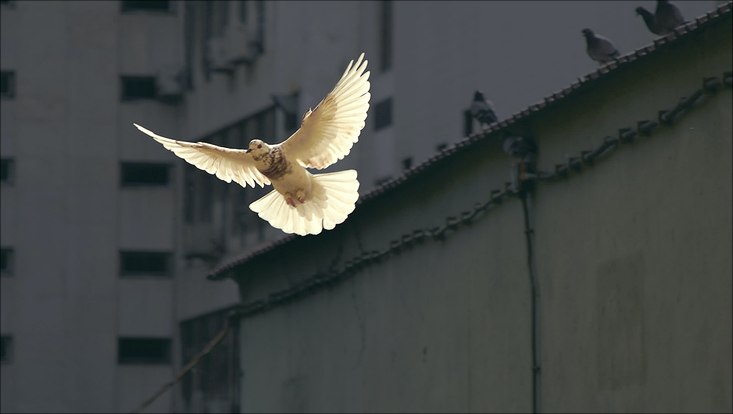 Photo: sunyu - unsplash
The new Peace Report, which focuses on the impacts of climate change, has been released. Professor Ursula Schröder from the Institute for Peace Research and Security Policy (IFSH) and Professor Jürgen Scheffran from Universität Hamburg's Center for Earth System Research and Sustainability (CEN) both contributed to the Report. In the following interview they explain why more climate protection could make the world a safer place.
What exactly are Peace Reports, and who produces them?
Ursula Schröder: Peace Reports have been released on a yearly basis since 1987. Each one is jointly prepared by four German peace research institutes. In the Reports, researchers from various disciplines investigate international conflicts and developments concerning security questions from the standpoint of peace policy. We also make clear recommendations for policymakers.
You contributed to the chapter on climate and conflicts. Is this the first time that the topic has featured so prominently in a Peace Report?
Ursula Schröder: Migration and climate change have been addressed in previous Reports. But this year, the focus of the entire Report is on "peace policy in times of climate change"; that's a first. Today the consequences of climate change for individual societies are especially visible, which is why we addressed their influence on security and on peaceful coexistence in detail.
While the media warns that climate change will produce millions of new refugees, the scientific community rejects these sweeping statements. Who's right?
Jürgen Scheffran: Within the scientific community, there are differing opinions on how many people will be forced to migrate by climate change, ranging from dozens of millions to hundreds of millions. Today it can only be very generally estimated, and depends on several factors: How many people will be affected worldwide, what adaptation and protective measures are available to help them, how difficult or dangerous would it be for them to migrate – and what are the relevant policies of their home countries and the countries of destination?
That being said, when people always assume the worst in connection with migration, it leads to fear and resistance. And these feelings often stand in the way of finding solutions, for instance, a proactive climate and migration policy.
According to the Report, a connection between climate change and armed conflicts is neither a given, nor easy to prove using statistics. Why are you nonetheless convinced that more climate protection would make the world a safer place?
Ursula Schröder: The risks that climate change poses for peace and security are complex and hard to quantify. But many studies clearly show that climate change worsens poverty, hunger and disease, and has a negative impact on human security in the process. That's why we call for a sustainable climate policy that also focuses on human and ecological security. Yet the claim that climate change automatically produces more violence and wars is a massive oversimplification, and therefore untenable.
Cooperation is a prerequisite for mitigating climate change, whereas conflicts could worsen the scale of the climate crisis. How can the latter be prevented?
Jürgen Scheffran: Without cooperation throughout history, humankind would never have made it this far. But in light of the climate crisis, global cooperation is more vital than ever. Some progress can be seen, for instance in corresponding agreements: from regional water agreements to the Paris Agreement, but also in local initiatives to support transformations in energy, agriculture or transportation. Nevertheless, the transition to sustainable development isn't progressing fast enough. Competing interests and conflicts, say, between farmers and nomads in Africa, or between the major powers in the Arctic, are hindering cooperation. Accordingly, climate policy and peace policy are mutually dependent. 
In the Report, you also make recommendations concerning geo-engineering: actively modifying the environment in order to limit global warming. What do you recommend?
Ursula Schröder: We support rapid and dramatic emissions reductions, because preventing climate change is simultaneously proactive peace policy, making it our top priority. We are skeptical of those large-scale technological solutions that don't seek to reduce the emission of greenhouse gases, and instead only seek to limit the effects.
Given the immense risks involved, Germany's federal government should abandon research into manipulating solar radiation, and should strive for an international moratorium on this research. Other geo-engineering approaches should be assessed on the basis of two criteria – the precautionary principle, and avoiding damage in keeping with the "do-no-harm" principle.
Can climate change also have positive effects, like fewer violent conflicts?
Jürgen Scheffran: As the corona crisis shows, major challenges can release tremendous energies to overcome problems. The same applies to climate change, which entails even greater long-term risks and will require a mobilization of societal forces, all pulling together. Instead of waiting until the damage has been done and then pouring incalculable resources into catastrophe management, we need to work on the transformation into a low-carbon society as quickly as possible. To do so, we'll need sustainably guaranteed peace, based on avoiding violence, de-escalation and demilitarization.
The Peace Report (German):
https://friedensgutachten.de/2020