Outstanding Climate Research
Young Climate Scientists Award winners announced
5 July 2022, by Franziska Neigenfind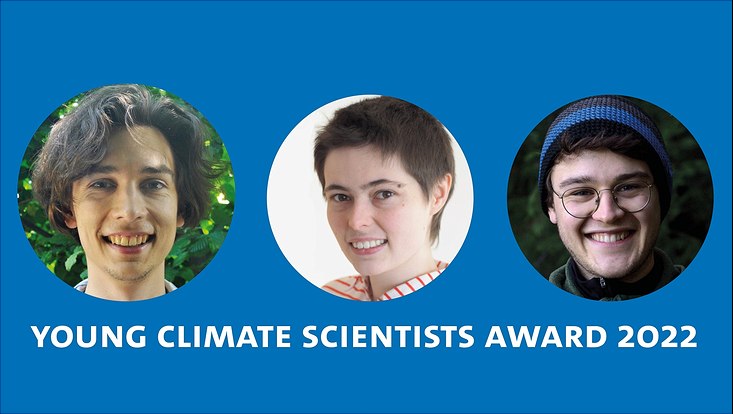 Photo: Nele Popp, privat (2)
Nikolai Surminski, Katharina Holube und Felix Schaumann (left to right)
The winners of the 2022 Young Climate Scientists Award have now been announced. Three young talents based in Hamburg won over the jury of experts with their final papers from various climate research disciplines. First place was jointly awarded to meteorologist Katharina Holube and Economics graduate Nikolai Surminski. Second place went to Felix Schaumann, who completed his master's degree in Integrated Climate Sciences.
The prize's patron is Katharina Fegebank, Hamburg's Second Mayor and Senator for Science, Research, Equal Opportunities and Districts: "Climate change is one of the most pressing challenges for our society. Here, bright minds and innovative ideas are called for. Consequently, I'm especially pleased that the Young Climate Scientists Award in Hamburg has established itself as an interdisciplinary prize for young talents in climate research. We need young talents with the desire to help shape our future. I wish to extend my heartfelt congratulations to the winners! You have made a valuable contribution through your research, finding creative solutions to limit global warming."
In her bachelor's thesis, Katharina Holube addressed what is known as the Madden-Julian Oscillation, a regularly recurring atmospheric phenomenon between the Indian Ocean and the Central Pacific. In his bachelor's thesis, Nikolai Surminski combined natural-sciences-based climate research with economics-based prosperity analysis to investigate how tipping points in the climate system affect the societal costs of greenhouse-gas emissions, and therefore also the appropriate stringency of CO2 pricing and climate policy. In his master's thesis, Felix Schaumann analyzed integrated climate-economy models, which are important tools for providing the information needed for climate policy decisions – and investigated how these models can most effectively be validated and assessed.
By awarding the prize, Universität Hamburg's Center for Earth System Research and Sustainability (CEN) honors outstanding bachelor's and master's theses that address climate-related topics from a natural sciences, humanities, social sciences or economic perspective. The three prizes have a total cash component of 10,000 euros and are funded by the Gesellschaft Harmonie von 1789 e.V. This year's two first-place winners received 4,000 euros each, while the second-place winner took home 2,000 euros. "Our goal is to reinforce Hamburg's standing as a center for climate research, and we are very pleased to offer support to young researchers," says Jan Themlitz from the Gesellschaft Harmonie. According to Prof. Detlef Stammer, Director of the CEN: "The number of promising papers submitted this year was especially high, which shows just how many remarkable young talents Hamburg-based climate research has to offer."
More Information about the Young Climate Scientists Award.
Contact:
Franziska Neigenfind
Universität Hamburg
CEN – Centrum für Erdsystemforschung und Nachhaltigkeit
CLICCS – Exzellenzcluster für Klimaforschung
Tel.: +49 42838 6173
E-Mail: franziska.neigenfind@uni-hamburg.de