Climate-adapted and Worth Living In: Urban Green Spaces for Everyone
8 June 2022, by Tetiana Dovbishchuk
Photo: UHH/ Dovbishchuk
In Germany, ca. 77 percent of the populace live in cities. There, new buildings are constructed, people heat their homes, and waste is produced. In addition, cities are particularly affected by the impacts of climate change – above all, heat, extreme precipitation and flooding. Although many people move to metropolitan regions, others switch to greener pastures. As a result, residential areas are expanding, and areas of untouched nature, crop fields and meadows often have to make way. How could cities accommodate more people while also being climate-adapted and worth living in?
But what makes a place worth living in to begin with? Is the lack of green spaces the key motivator for people to leave cities? My colleague Stefanie Kley and I are pursuing answers to these questions. As part of our research at Universität Hamburg's Center for Earth System Research and Sustainability (CEN), we conducted a survey in Hamburg and Cologne, gathering input from more than 1800 persons aged 18 to 96.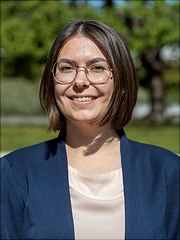 In the interviews, we first ascertained how much green those surveyed had in the immediate vicinity of their home. When they looked out the window, could they see a green space? Did they have a balcony, patio, courtyard or garden? Were there any parks or other green spaces nearby? In addition, we asked if they had any concrete plans to move within the next twelve months. We also asked if there had been any major events in their lives recently – like a new child, couples moving in together, or buying real estate. Especially when such events transpire, it can push people to move somewhere greener. Lastly, we asked how satisfied they were with their lives in general: whether they felt healthy, connected to their neighborhood, and financially secure.
We then used statistical methods to analyze their responses. This gave us a picture of how important a green living environment was to their overall satisfaction with life. The results showed that nature was important for all age groups surveyed; homes without a balcony or garden directly reduced satisfaction. Those people who had no view of a green space out their window were more likely to consider moving. According to our analysis, nearly 23 percent of those surveyed were considering a move. Among them, the number of families with children but no garden was disproportionately high.
Consequently, green spaces are of enormous importance in cities. For us, the desire for green spaces is closely linked to climate change adaptation. After all, natural and green settings provide a buffer for heat, cooling the air with shade and moisture. Non-sealed surfaces absorb rainfall like a sponge, mitigating the effects of flooding. In addition, green spaces frequently offer quiet; trees are a natural form of noise protection.
Many city dwellers are no longer willing to accept that further construction near their home comes at the cost of losing green spaces and nature. Accordingly, the demand for homes on the outskirts of cities and in rural areas will most likely continue to rise. However, our findings indicate that direct access to nature could entice people to stay in the city. As such, urban green spaces should receive equal consideration in terms of planning the construction of new homes and the maintenance of existing neighborhoods. Only then will we achieve cities that are both climate-adapted and truly worth living in.
More Information
Tetiana Dovbishchuk  is a sociologist pursuing research on sustainable lifestyles at Universität Hamburg's Center for Earth System Research and Sustainability (CEN).
To the Publication: Kley, S.; Dovbishchuk, T. How a Lack of Green in the Residential Environment Lowers the Life Satisfaction of City Dwellers and Increases Their Willingness to Relocate. Sustainability 2021, 13, 3984. https://doi.org/10.3390/su13073984
To the Researcharea  "Living with Green Spaces"
Newspaper: This article was first published as a guest article in the Hamburger Abendblatt as part of a monthly series on climate research. Find all articles of the series here.