Blue Compass
Hamburg Tree Project Nominated for Federal Prize
18 May 2022, by Stephanie Janssen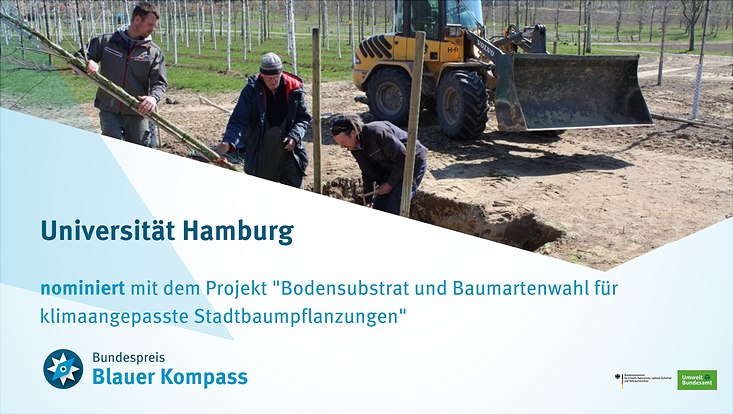 Photo: UHH-CEN/Blauer Kompass
Climate change is a stressor for urban trees. Annette Eschenbach is a Professor of Soil Technology and Soil Protection at Universität Hamburg's Center for Earth System Research and Sustainability (CEN) – and conducted a hands-on test together with a local tree nursery: how can trees be made fit for climate change in the future? The project was recently nominated for the "Blue Compass" prize, awarded by Germany's Federal Ministry of the Environment and the country's main environmental protection agency, the Umweltbundesamt (UBA).
Under the official title "Soil substrate and tree selection for climate-adapted urban tree planting," or BoBaSt for short, the project involved planting nine different types of tree in various types of soil and closely monitoring their growth over a three-year period. For example, one sandy substrate created more arid conditions for the trees, which may predominate in future metropolises. If a given tree can thrive under these conditions, it may be able to get by with less water in the next few decades. In order to compare the experiment with real-world conditions, the consortium of researchers from Universität Hamburg's Department of Earth System Sciences operates a monitoring networking of more than 20 trees throughout the city.
You like the idea? Starting today, and through June 8, 2022, you can vote for the winner of the people's choice award online here!
At the end of June, a jury will select one winner for each of four categories from among the 20 nominees. The winning projects will receive the Blue Compass prize and 25,000 euros each.