"Climate Chatter Hamburg" Project
SICSS Goes Podcast
17 February 2023, by Franziska Neigenfind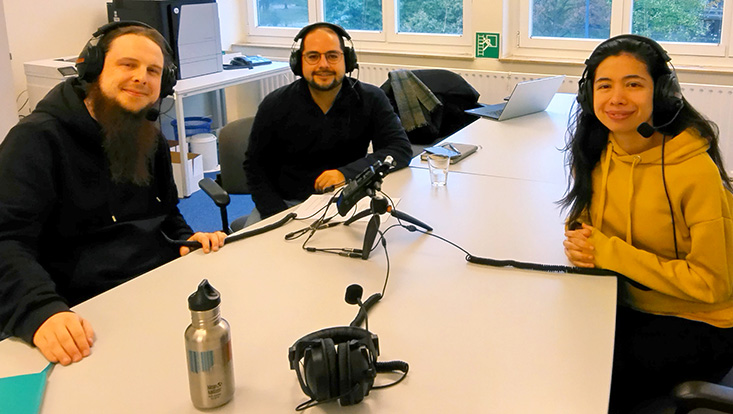 Photo: Shabeh ul Hasson
Carlos Tello and Alejandra Gómez Correa with podcast coach Michael Büker (to the far left).
"As a child, I was fascinated by the layers you see in some mountains. To me, they looked like the pages of a giant book – and I asked my mother how mountains formed surrounding her home village and Bogotá came about. She couldn't tell me, so I decided to find out for myself." That's how Alejandra Gómez Correa describes what sparked her passion for rocks, mountains and its formation. Today, the Colombian native is a trained geologist and paleobiologist and has successfully made a research career for herself. What drives young researchers, what are their dreams, and what about their work do they find most interesting? In a dedicated podcast, doctoral candidates and postdocs at the CEN share their stories. In the brief episodes of "Climate Chatter Hamburg," they report on how climate change is manifesting in their home countries, what ideas they have – and above all, the research they're currently conducting at Universität Hamburg.
The idea for the podcast series came up in a workshop on science communication at the CEN graduate school (SICSS). In the "Science Chatter Hamburg" project, young researchers at Universität Hamburg and the Helmholtz research centre Deutsches Elektronen-Synchrotron (DESY) learn the basics of blogging. But the texts they produce aren't just homework; they're posted in the eponymous blog. This is all made possible by PIER, a strategic partnership between Universität Hamburg and DESY. One of PIER's central tasks is training the next generation of researchers on topics like career development, project management, presentation techniques, and using specific software for doctoral candidates and postdocs.
Science communicator Michael Büker was selected to serve as the external coach. He began by sharing an overview of the science blogging scene. In the course of the workshop, he presented career opportunities in and with science communication and answered a range of practical questions, e.g. on image rights, networking with other bloggers, and sharing content on social media. Theresa Schredelseker, Postdoc Coordinator at PIER, explained the basics of using WordPress, the world's leading content management system, and answered questions on how to manage your own website.
Listen in now: http://uhh.de/apdmj
Podcast episodes on CEN researchers